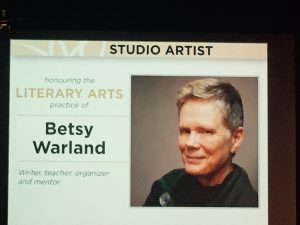 Dear Readers and Writers:
Are you enjoying some well-deserved time off this holiday season? Then perhaps you'd like to catch up with Oscar's latest news.
Nine months after publication, Oscar of Between: A Memoir of Identity and Ideas, is still garnering a lot of attention. Here's an end-of year round-up of the press it's been getting lately:
Daily XTra
While in Iceland last summer, Betsy met up with Canadian journalist Isaac Wurmann, who wrote in the Daily Xtra:
"Warland is in Reykjavík winding up a tour for her latest book, Oscar of Between, a memoir that chronicles the ways she identifies as a 'person of in-between.' The book is her 12th in a career spanning three decades and many more genres, from creative non-fiction to erotic poetry, making Warland one of Canada's most prolific and important queer writers."
Read the Daily XTra article here to find out more about her performance in the Icelandic capital.
Mayor's Arts Awards
Betsy received the Mayor's Arts Award in Literature last fall. She was recognized for three decades of contributions to Vancouver's–and Canada's–literary communities as a writer, editor, and mentor.
"Literary Vancouver would not be the same without her," MC Bill Richardson said as he introduced Betsy.  Find out more by reading our original article about it.
Room magazine Interview & Review

The latest issue of Room, titled This Body's Map, is produced by Vancouver poets Chelene Knight (Editor) and Jónína Lynn Kirton (Assistant Editor) and features an interview with Betsy as well as a review of Oscar of Between.
Jónína visited Betsy at home, where she conducted a silent interview. That's right–not a word was spoken, yet the two engaged in a thought-provoking discussion that touched on many subjects: the perversity of choosing writing as a profession, social change, and the connectivity that comes from recognizing betweenness in ourselves and in others. How did they do that without voicing a single a word? Order your copy of Room 39.4 to find out!
The issue also features a review of Oscar of Between: "Warland covers vast ground, moving swiftly and in a non-linear fashion from intimate reflections on her most personal relationships, living arrangements, and perspectives on creativity, to matters of broader social and political consequence. A book perhaps without obvious category but not without an important place in Canadian literature, Oscar of Between is a dynamic work of startling insight," writes reviewer Dana Hansen.
Radio Interviews
Who said that video killed the radio star? Oscar's presence on this old-school medium and on its twenty-first-century incarnation, the podcast, has been nothing short of brilliant. Here are links to the audio files–just click and listen.
In an intimate and thought-provoking discussion, Joseph Planta asks Betsy about being a person of between, a parent and a writer.
On Roundhouse Radio's Janice & Cory show, Betsy talks about the events that led to her trip to London where a military exhibition (of all things!–Betsy is a pacifist) inspired Oscar of Between.
On December 14th, Betsy spoke to Pam Bentley and RC Weslowski on Co-op Radio's Wax Poetic. She also read from Oscar of Between, a Memoir of Identity and Ideas. Click here and scroll to the December 14th show.
Oscar's Salon
I'd like to leave you with news about Oscar's Salon, the online version of Oscar of Between. Betsy is still uploading excerpts on this collaborative platform, but not for long! The last one will be published in February 2017. So if you've always wanted to take part in the discussion but felt too shy, now's the time! Read the latest installment, which features poet Mark Goldstein, and share your thoughts with Oscar in the comments section at the end of the post.
Happy Holidays to all of you, and best wishes for 2017.