Thanks to everyone who came out to the Poetry New West Reading Series at the Heritage Grill on Sunday, February 5th. It was a dynamic evening. Betsy read from Oscar of Between, and it's amazing to see that almost a year after its publication, the book attracts lots of interest on the page and on the stage (not to mention the online salon!).
Poetry New West is a unique reading series because it encourages emerging writers to come out and read alongside more experienced authors who act as "mentors of the mic."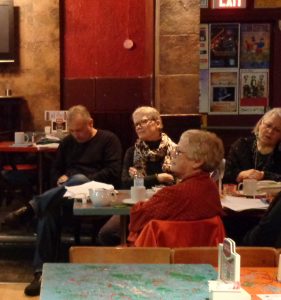 "It's all about sharing and creating space for each other," says their Facebook invitation.
Here are some upcoming Poetry New West readings:
Sunday, February 19th, 2017: Richard Olafson and Carmelo Militano
Sunday, March 5th, 2017: Annette LeBox and Phinder Dulai
At the Heritage Grill
Back Stage Lounge
2-4 pm
They're working on a website. In the meantime, if you want more information about Poetry New West, check out their Facebook page.