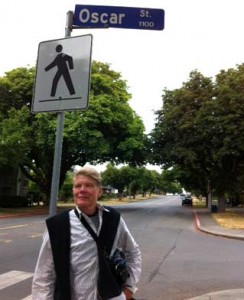 This January, in my Welcome to Oscar's Salon, I wrote: "With 2015 we enter the third and final year of Oscar's Salon." Since then, I have discovered "Not so!" In March I elbowed out three weeks of writing time and wrote the final section of Oscar of Between, then read the entire manuscript. I haven't read it in its entirety since 2012. Then it was comprised of Part 1 – 21.
The complete manuscript is now Part 1 – 36. Honestly, I was surprised by how engrossing a read it is in print. Subsequently, I realized two things: that the salon's abridged version of Oscar will run until July 2016; that Oscar of Between needs to exist in print book format. Many of you have told me how much you love the salon (as do I). Yet, more of you have told me you want to read it in book format and you were right.
Ideally, I'd like the book come out while Oscar's Salon is still "live." Then readers can bridge between the richness of the salon's accompanying, provocative voices and images, and the continuity of the book's complete narrative. Wish me luck!
-Betsy ala Oscar