Excerpt from Oscar of Between, Part 17D
by
Betsy Warland
– 15 –
Eager to sit at the top of the spiral stairs – sip her tea in sun's caress – Oscar heads for the kitchen. Hears that the women next door are already smoking and talking on their balcony. On the fulcrum of post-Friday night & pre-Saturday night, Oscar notes how their conversation is animated with possibilities.
Never one for group feeding in the morning, Oscar heads down the hall. Eats cereal in sleepy shadows of front balcony. Back in kitchen to prepare tea, Oscar hears abrupt halt in conversation. Ahh! They have gone back inside. Carrying her tea down to the garden, she catches a glimpse – they're still there – oddly quiet. Snatching another glimpse she sees each is bent over something on the little table, transfixed. Reading books? Then Oscar sees reflected light on one's face. Oh, Oscar, you writing fool: not books. Mirrors! Each putting on makeup with such intensity it embarrasses her.
Oscar averts her eyes. Drinks tea awkwardly. Quickly returns to the front balcony for second cup.
Half an hour passes. Silence. Oscar decides to check it out: takes the compost down to garden. The two are still there. Utterly preoccupied as they make-up for their deficiencies with a sense of plumaged hope.
– 16 –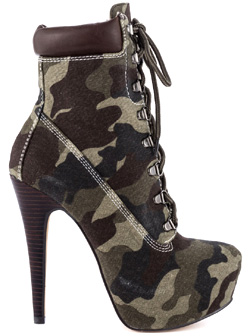 On that fateful YWCA summer camp's canoe trip, Oscar realized she wasn't a "girl" when the other girls set their alarm clocks 20 minutes early to put on their makeup. Realized there was no remedy. No viable camouflage. Girl? Boy? Oscar was neither either. Nor wishing to be.
– 17 –
Light-filled morn. Oscar walks down to Multimags to buy Sunday edition of The New York Times. July 22, 2011, Norway: a "Christian Extremist" (camouflaging himself in a policeman's uniform) gains easy access to a small island. Kills 76 people. All but two are youth at a summer camp for politically active young adults.
Horror rises up in Oscar. The self-proclaimed Norwegian hero of the war against multiculturalism, feminists and Muslim immigrants, posts a 1,500-page manifesto and video of himself – in war camo with semi-automatic rifle – a couple of hours before his attack.
This is it.
– it's you or me –
One survivor, a Sri Lankan-born 23-year-old who moved to Norway at age three, is quoted as saying the camp had been
"the safest place in the world."
– 18 –
Three years later. Twenty-two-year-old California student posts a lengthy manifesto detailing his hatred of women and racial minorities. Next night he posts a YouTube video before killing three Asian roommates, thee women students, wounding thirteen others. Then – surrounded by police – kills himself. His father a unit director of The Hunger Games.
Yesterday. Corner of Commercial Drive and Broadway – older aboriginal man holds up white T-shirt for sale with black block letters:
Aboriginal Holocaust:
1492–?
---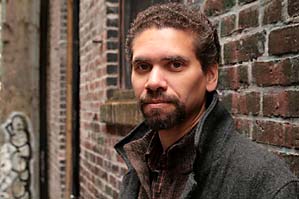 Guest Writer:
Wayde Compton
Vancouver, BC
https://waydecompton.com/
Pre-
racial. land and
the way water scores the land, the way water
breaks out from over to interior. the way place
racinates. in land's wake. the way
the shape of the world makes
the fluid you. the world
that turns. the world worded
against the world. the words
you turn around in the scored world.
the words. post-racial. land andcolonization schedules out
like a crack turns
into an echo of a map
beating to windward
through a pane of glass; after the encounter
of tough and transparent; the autochthon
sculpts back
to conquest; the materials
of faceless imposition unendure
in the elements that brave usgenres abrade. evince sharply asymmetrical
cultural hierarchies. inspire. counter-voices dually engaged. natives
of a late colony. traditions storytelling state-of-the-nation paged.
oration. merged. expository burning. mercantile
prophecies shuffle eras. the first flush
of occupation. the first emergence of a mixed.
epic. duplicitous co-polemic
metropolises, the Pacific Northwest,
the last part of the Americas, settler preemption, and plague infection,
19th rather than 17th, delayed, accelerated
manner, entrepreneurs for the colonial
project, a matter
of one colonial office (London) managing a mixture,
to colonize a mix of subject, one hundred
plus languages alone.
coincide
with modernism, individualism, the latter
growing out
of the former.
neither "race management from below" nor historical site de rigeur. Alteration and
adaptation — whether or not they fit the official colonial or national ideologies — are
the ipso facto impulses of the region. past its incipience, a regional set of relations
arisen out of response — a polyvalence. such terrain, such shifting.
everything here is unique and nothing here is unique.
the elements of history, the evolutions of arrival. your image
overtop a very present don't-fit; indeed — always — in short — exemplify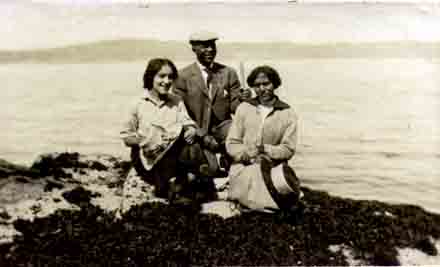 ---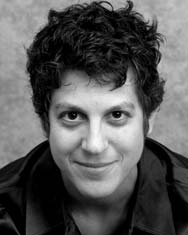 Featured Reader:
Gail Marlene Schwartz
Montréal QC
https://gailmarleneschwartz.weebly.com
I read Oscar's Salon because…
I read Betsy's book, Breathing the Page, and I was deeply moved and greatly inspired. As an interdiciplinary artist preoccupied with community, I continue my own exploration about how to weave new strands of creativity together to make new kinds of conversations that emerge from this rapidly changing world. With multiple voices, visual art, explorations in language and surprising choices in subject matter, Oscar Salon is a newly discovered treasure for me and I greatly appreciate the chance to co-create.
Profile
Gail Marlene Schwartz is an interdisciplinary artist living in Montreal. She is interested in using stories as connective tissue for creating progressive social change. Her essay, "Loving Benjamin," was published in the anthology, How To Expect What You're Not Expecting (TouchWood Editions, 2013); the piece was also awarded Honourable Mention from Room Magazine, creative nonfiction category, 2012. Her short story, "Inside, Crying" was a finalist for the 2014 Malahat Review Open Season Award for fiction. Her play, Crazy: One Woman's Search for Sanity, was published in the anthology, Hidden Lives (Brindle and Glass, 2012). Gail's writing has also appeared in Sundays@6, Vine Leaves Literary Journal, Poetica Magazine, Quiet Mike, Community Arts Network, Parents Canada, GO Magazine, Gay Parent, and Ms. Guided (Issue #07). She is a member of Promito Playback, a bilingual ensemble practicing Playback Theatre. Gail and her wife, Lucie, are proud parents of four-year-old Alexi.