The Malahat Review invites writers identifying as LGBTQ2S? to submit their work for consideration for an issue celebrating contemporary queer writing in Canada!
Guest editors Ali Blythe, Trevor Corkum, and Betsy Warland are interested in considering submissions of exciting contemporary LGBTQ2S? writing by poets, short-story, and creative-nonfiction authors whose work makes vivid and particular their experience of being alive in the world.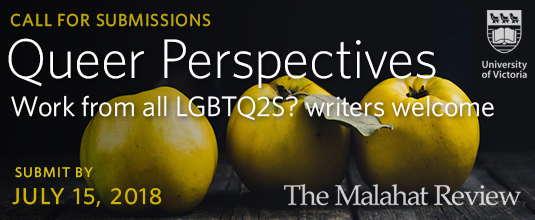 In an interview about the editing and evaluation process for the issue, Betsy emphasizes embodiment and reflexivity: "Just as the exploration of our queer bodies provokes us to 'make it new,' so does compelling queer writing. Everything matters! The narrative might be engaging but if the writer has given very little thought to what style, form, narrative position, and arc embodies that specific narrative, the piece will not lift off the page: you will forget what you read very quickly."
Editors will work collaboratively to select work for the "Queer Perspectives" issue of The Malahat Review to emphasize inclusivity, trust, and diversity.
Submissions close on July 15, 2018.
Visit The Malahat Review to read more.