Refugium, an anthology of Poems for the Pacific, edited by Victoria Poet Laureate, Yvonne Blomer, has been longlisted for the 2018 George Ryga Award for Social Awareness in Literature.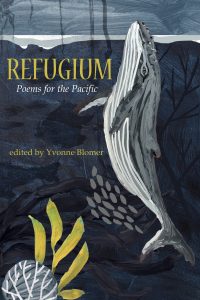 Published by Caitlin Press in the Fall of 2017, Refugium offers hearty words on the complexities of climate change. The publisher says, "Yvonne Blomer explores her deep concern with our sixth extinction and how stoic humans are continuing to wreak damage on the planet and her oceans." Featuring poems by Vancouverites Betsy Warland and Rob Taylor, as well as poems by heavyweights such as Steven Heighton and Jan Zwicky, Refugium speaks its truth alongside Son of a Trickster by Eden Robinson and other bright stars.
George Ryga was a playwright, novelist, and poet, who found national acclaim with The Ecstasy of Rita Joe in 1967. Ryga's second play was one of the first to address the effects of white supremacy, patriarchal privilege, and colonialism on Indigenous people. To learn more about Ryga, the award, and to see the full longlist, visit BC Booklook.
Congratulations to Caitlin Press and all those nominated!