Bloodroot: Tracing the Untelling of Motherloss
2021 Inanna Publications (2nd edition)
$22.95 plus shipping
This second edition includes a new long essay by Warland and a Foreword by Susan Olding.
In this compelling and beautiful work of creative non-fiction, writer and poet Betsy Warland takes the reader with her as she negotiates her mother's growing incapacity and death. Her narrative traces the story that bound them together in the mother-daughter relationship, and her reflections help her find clarity, understanding and acceptance. Warland weaves a common ground that moves beyond duty and despair, providing both questions and guideposts for readers, particularly those faced with ageing and ill parents and their loss.
Warland achieves something unexpected – an inspiring story of mother-daughter reconnection.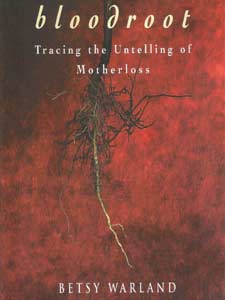 2000 Second Story Press (1st edition)
This first edition is out of print. Limited (and signed) copies are available from Betsy below. An E-book of the first edition is also available for purchase below.
Since its publication in 2000, Bloodroot – Tracing the Untelling of Motherloss continues to be my most beloved book. Although it's been out of print for a couple of years, readers and writers frequently tell me how much it means to them. Recently, a woman who had read Bloodroot in her book club mentioned it to her husband, who read it. Then they bought copies for their family attending his mother's memorial service.
The first edition is available below as a paperback or an E-book.
Bloodroot Extras
Get the inside story about how I wrote my book, Bloodroot: Tracing the Untelling of Motherloss.
Hello writer friends, I'd like you to know about a livestream performance launch for the second edition of my 2000 memoir Bloodroot:Tracing the Untelling of Motherloss. This new edition includes a new Foreword by Susan Olding. It also includes a long essay on further...
read more