Catch Betsy on Thursday, July 20, at the Pride Reading Series at Jim Deva Plaza.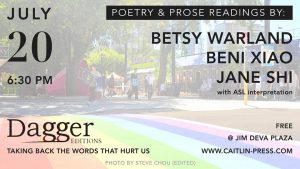 Betsy will read alongside emerging writer Jane Shi and Beni Xiao, whose chapbook is forthcoming with new Vancouver chapbook press, Rahila's Ghost Press.
The reading will be hosted by Anoushka Ratnarajah of the Queer Film Festival and is presented by Dagger Editions, an imprint of Caitlin Press.
For details, visit the Facebook event page or refer to the summary below:
July 20 at 6:30 p.m.
Betsy Warland – Jane Shi – Beni Xiao
Pride Reading Series
Jim Deva Plaza
1200 Bute Street,
Vancouver, BC