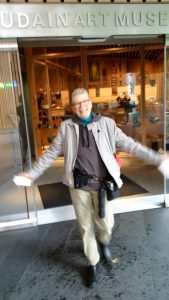 Betsy has been on a magical literary tour this fall. She has participated in readings, panel discussions and workshops at festivals in Victoria, Vancouver, Whistler and Edmonton. Earlier this month, she also won a Mayor's Arts Award for her contributions to Vancouver's literary community. The lit fun isn't over yet!
Betsy's going to read from Oscar of Between on Wednesday, November 2 at the Book Warehouse on Main Street. It's part of Read Local BC, a series of events organized by the Association of Book Publishers of British Columbia to promote local writers, publishers, bookstores and libraries. Maureen Palmer and Michael Pond will also be there with their book, Wasted: An Alcoholic Therapist's Fight For Recovery in a Flawed Treatment System.
In advance of the reading, Betsy spoke to Joseph Planta for his podcast, The Commentary, which you can listen to here.  In this interview, Betsy answers personal questions about being a person of between, a parent and a writer. It's an intimate and thought-provoking discussion.
So, have a listen, and see you Wednesday!
Read Local BC With Betsy Warland
Wednesday, November 2, 2016
7 p.m.
The Book Warehouse
4118 Main St., Vancouver
Facebook Invitation