I am guiding this weekend writer's retreat titled Embracing the Between: A Retreat for Writers of Any Genre at Annie's Acre in Nanoose Bay, BC.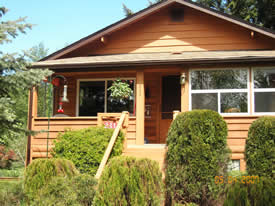 Although betweenness is often considered something to avoid – the devil and the deep blue sea, between a rock and a hard place, between two fires – it's actually a dynamic site from which to write. A site, in fact, that we often occupy in our lives.
Betweenness can be between doubt and confidence, drafts, languages, time frames, what we're willing to write and afraid to write, between genres, art forms, conflicting shared memories, between knowing and unknowing, between identities, truth and fiction, life and death.
We will looks at different ways writers have navigated and evoked betweenness, and explore how you might work more imaginatively and effectively with it in your own writing.
Maximum 16 participants.
June 15–17, beginning Friday evening and ending Sunday at noon.
Cost: $275 including meals.
See full description for times and registration details, or contact Tina Biello at 250-468-7960 or at tbiello@shaw.ca.