Submissions are now open for this year's Literary Writes poetry contest sponsored by the Federation of British Columbia Writers (FBCW). There will be two sections: a general category, judged by Fiona Tinwei Lam, and a 19-and-under youth category, judged by Renée Saklikar, both themed: "Who is 'The Other'?"
Fiona Tinwei Lam has authored two poetry books and a children's book. She edited The Bright Well: Canadian Poems on Facing Cancer, and co-edited Love Me True: Writers on the Ins, Outs, Ups & Downs of Marriage. She has won The New Quarterly's Nick Blatchford prize and was a finalist for the City of Vancouver Book Award. Her poetry videos have screened at festivals locally and internationally. She has a new collection of poems forthcoming with Caitlin Press in 2019.
Renée Saklikar is Poet Laureate for the City of Surrey, British Columbia. Her latest book is a B.C. Bestseller: Listening to the Bees. Renee's first book, children of air india, un/authorized exhibits and interjections, about the bombing of Air India Flight 182, won the 2014 Canadian Authors Award for Poetry and was a finalist for the 2014 Dorothy Livesay (BC Book Prize)
The deadline is Feb 1, 2019 and the winners will be announced Mar 1, 2019.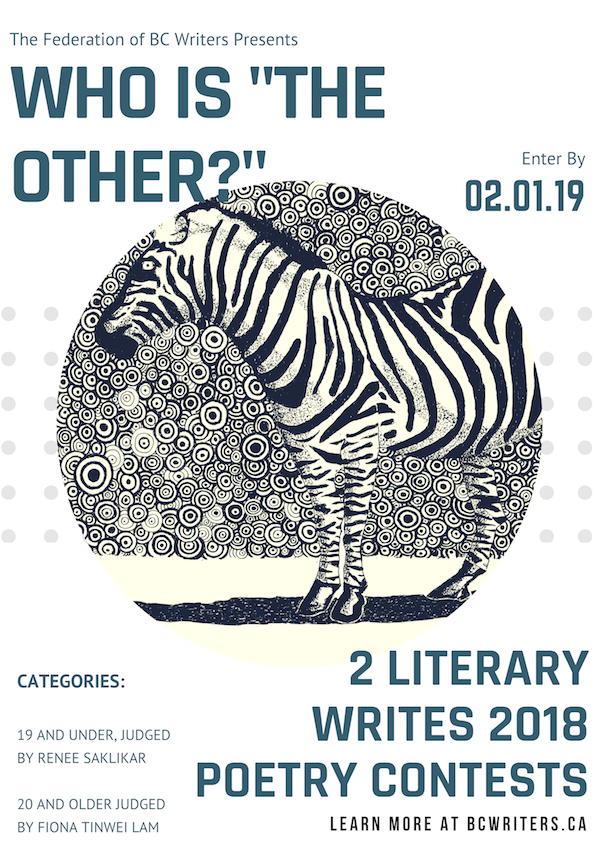 For more information, contest guidelines, and to submit, please go to the FBCW web page: bcwriters.ca.