Home
I'm a published writer with over 20 years' experience as a writing teacher, editor and manuscript consultant.
My latest book, Breathing the Page: Reading the Act of Writing is a best-seller. Please be my guest and read excerpts.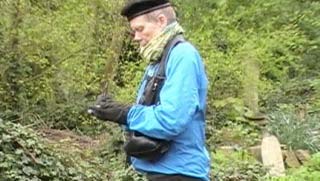 Oscar jotting down "Oscar of Between" notes in Abney Park Cemetery, London, UK, 2012.
In Oscar's salon you can read excerpts from my work-in-progress, "Oscar of Between," an excerpt or piece from an invited Guest Writer or Artist and add your voice to the mix. Next excerpt available on October 14, 2014.
If you are looking for a manuscript consult in early or full draft stages, there are two options to choose from, one-on-one manuscript consulting or participation in the VMI program.
For more news and events, visit my blog or consider subscribing to my mailing list.