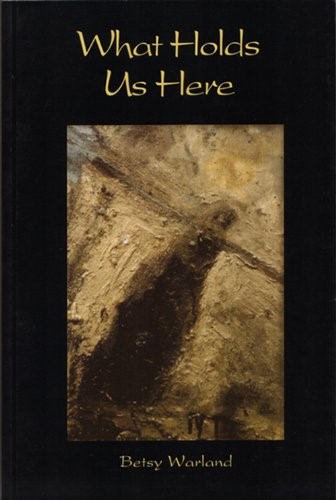 What Holds Us Here
What Holds Us Here is a collection of nine suites of poems on various forms of longing, ranging from Van Gogh's paintings, to love found and lost, to a muse on the nature of narrative. In this collection, Warland has integrated the full range of her ideas, concerns and skills as a poet and thinker. Six of these suites of poems had been previously published in literary journals. Composers subsequently set four of these six suites of poems to evocative art songs and choral music.
 In this collection, Warland boldly expands her inscription of scored "blank" space on the page, creating a visceral sensation of pacing and emphasis. This evokes a sense of collaboration with the reader's own perceptions, thoughts, and feelings. In the suite "Dark Thoughts," Warland writes of devastating loss, reckoning and coming to terms with our self-foolery:
"We say things in the dark that
Embarrass us by the light of day
Strange
Our fear of the dark when
This is where we live."   
In her suite "Cloudnotes," erotic love poems are adjacent to the devastation of Anglo-Saxon invaders of the Haida nation.
"in the abandon village of Skedan (Raven Village) Haida Watchman Charlie Wesley tell of disease, missionaries burning poles taking children this close—to destruction his quite humour a porthole or eye in a long-grey stormy sky"
1998 Buschek Books
Watch Betsy read from What Holds Us Here.