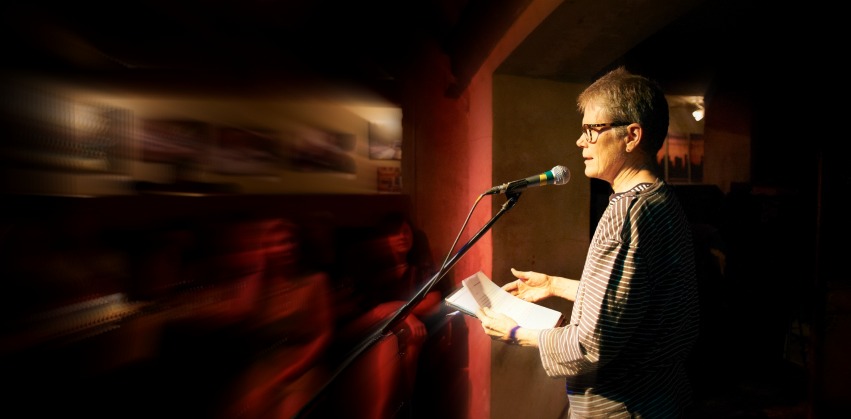 With the continuing success of Oscar of Between, Betsy has many upcoming events and readings. Save these upcoming dates in your calendar:
MARCH
West Coast Writers Workshop: A day-long urban retreat with Betsy Warland on March 24, 2018 in Vancouver, BC.
Growing Room: Betsy Warland will be at Growing Room: A Feminist Literary Festival!
FEBRUARY
Canadian Authors presents a reading and talk by Betsy Warland on Weds, Feb 14, 2018.
DECEMBER
Applications for the Vancouver Manuscript Intensive are extended from Nov 27 to Dec 1.
NOVEMBER
Nov 4 – Betsy speaks on a panel about the personal essay and offers a creative non-fiction craft class at the Wild Writers Festival presented by The New Quarterly in Waterloo, Ontario.
OCTOBER
Oct 5 & Oct 19 – Yvonne Blomer launches Refugium, an anthology of poetry about climate change and the environment, featuring Betsy Warland, John Barton, and more. The launch in Victoria will take place on Oct. 5 at the Maritime Museum of BC, and the launch in Vancouver will take place on Oct. 19 at the Strathcona branch of the VPL.
Oct 18 – Vancouver Manuscript Intensive mentor, Elee Kraljii Gardiner, begins a six-week memoir writing workshop.
AUGUST
Aug 25-Aug 29–Workshop: "Parts of a Whole: Nonfiction, Short Fiction and Narrative Poetry with Betsy Warland." Island Mountain Art Summer Writing, Wells, BC.
More details and events to be confirmed so please check back frequently! If you would like to have Betsy feature at one of your upcoming events, please contact us.
Growing Room: A Feminist Literary Festival returns from March 1-4, 2018 at various venues in Vancouver, BC.
Betsy Warland will be at Growing Room on Saturday and Sunday, where she will be participating in and moderating panels, respectively.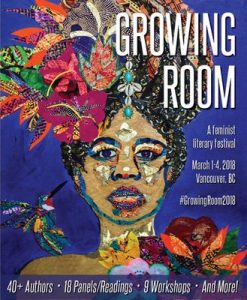 ---
SATURDAY, MARCH 3
---
From Head and Heart: Expanding Genre in Memoir
Leanne Dunic, Chelene Knight, Ijeoma Oluo, Bev Sellars, Betsy Warland
Moderator: Elee Kraljii Gardiner
Writers of memoir often bring together the best of all genres, blurring the boundaries of poetry, biography, fiction, history, and philosophy to create a genre-busting reading experience. Gear up for an engaging conversation with writers Leanne Dunic, Chelene Knight, Ijeoma Oluo, Bev Sellars, and Betsy Warland on how they have each approached the art of telling their histories.
Saturday, March 3, 4:30pm–6:30pm | By Donation
Native Education College @ 285 East 5th Avenue
This event will feature ASL Interpretation
---
SUNDAY, MARCH 4
---
Reopening Old Wounds: Self-Care When Writing
Maggie de Vries, Chelene Knight, Ijeoma Oluo, Bev Sellars
Moderator: Betsy Warland
Writing can be a powerful way of healing after trauma; however, the process can also trigger painful memories and emotions. How do we know when we're ready to write about our most difficult experiences? (Are we ever "ready"?) How do we take care of ourselves as we tear open old wounds to bleed onto the page? In this intimate panel, four authors discuss the challenges of writing about grief and trauma—how to take care of oneself when diving deep into pain, and whether the journey, ultimately, can lead to greater healing.
Sunday, March 4, 10:30am–12:30pm | By Donation
School Creative @ 112 East 3rd Avenue
This event will feature ASL Interpretation