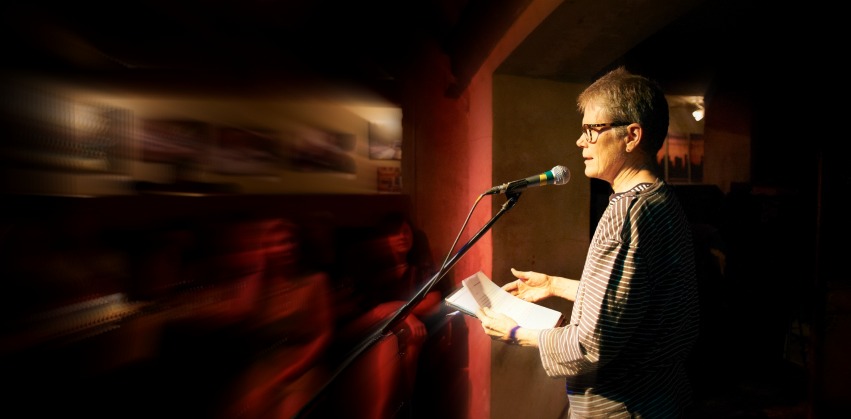 With the continuing success of Oscar of Between, Betsy has many upcoming events and readings. Save these upcoming dates in your calendar:
AUGUST
Aug 25-Aug 29–Workshop: "Parts of a Whole: Nonfiction, Short Fiction and Narrative Poetry with Betsy Warland." Island Mountain Art Summer Writing, Wells, BC.
More details and events to be confirmed so please check back frequently! If you would like to have Betsy feature at one of your upcoming events, please contact us.
JULY
July 20: Pride Reading Series: Betsy Warland reads alongside Jane Shi and Beni Xiao at 6:30 p.m. at the Jim Deva Plaza
Thanks to all who came out to the Pride Reading Series last Thursday, July 20. Held at the Jim Deva Plaza on Bute Street, it was an evening of strong words from fellow writers Jane Shi and Beni Xiao, and kind attention from all the attendees.
The reading was hosted by Anoushka Ratnarajah of the Queer Film Festival and was presented by Dagger Editions, an imprint of Caitlin Press.
Oscar of Between is Betsy Warland's memoir of identity and ideas. Learn more from Caitlin Press:
"In the process of writing Oscar's story, Warland considers our culture's rigid, even violent demarcations as she becomes at ease with never knowing what gender she will be addressed as: "In Oscar's daily life, when encountering someone, it goes like this: some address her as a male; some address her as a female; some begin with one and then switch (sometimes apologetically) to the other; some identify Oscar as lesbian and their faces harden, or open into a momentary glance of arousal; some know they don't know and openly scrutinize; some decide female but stare perplexedly at her now-sans-breast chest; some are bemused by or drawn to or relate to her androgyny; and for some none of this matters."