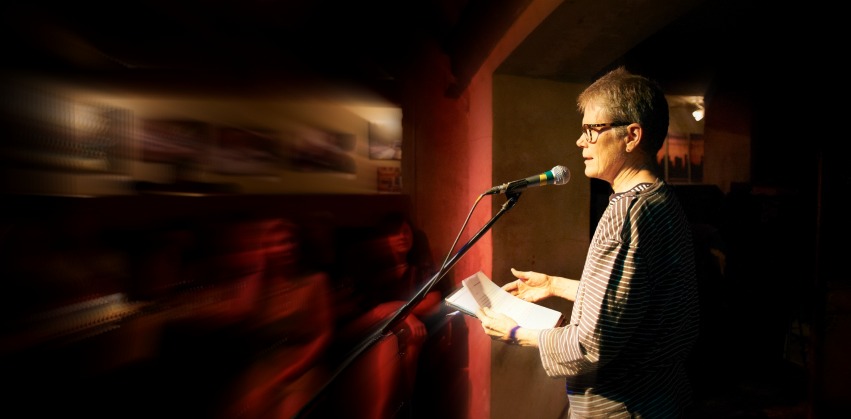 With the continuing success of Oscar of Between, Betsy has many upcoming events and readings. Save these upcoming dates in your calendar:
APRIL
April 26th–Mashed Poetics at the Verses Festival of Words: Spice Girls. Betsy performs a poem based on 2 Become 1 (yes, the Spice Girls song)
MAY
May 6th–Workshop: "Interactive Non-Fiction" at CNFC Conference, 2 p.m.-3:15 p.m., Green College, UBC (Vancouver)
May 6th–Closing Plenary: "Looking Back, Looking Forward" at CNFC Conference, 3:30 p.m.-5:00 p.m., Green College, UBC (Vancouver)
JUNE

June 4th–Public Reading: Vancouver Manuscript Intensive 2017 Grads, The Havana, 1212 Commercial Drive (Time TBA)
AUGUST
Aug 25-Aug 29–Workshop: "Parts of a Whole: Nonfiction, Short Fiction and Narrative Poetry with Betsy Warland." Island Mountain Art Summer Writing, Wells, BC. (Web link coming soon)
More details and events to be confirmed so please check back frequently! If you would like to have Betsy feature at one of your upcoming events, please contact us.
Oscar of Between: A Memoir of Identity and Ideas is still getting lots of attention a year after publication. Here's a list of Betsy's latest reviews and interviews.
Event Magazine

In the latest issue of Event magazine, Carleigh Baker writes of Oscar of Between: "The narrative is both delicate and penetrating, intimate and public, filled with the clashes and collaborations that make us human."  To read the review, order your copy of the latest issue of Event Magazine here.
BC Bookworld
York University professor Catriona (Cate) Sandilands says in BC BookWorld: "Warland's memoir is a vital exploration of what it means to inhabit the early twenty-first century with attention, openness, and generosity." You can access the review on BCBookLook.com.
Room Magazine Online
Dana Hansen's review for Room magazine is now available online! "Oscar of Between is a dynamic work of startling insight."
That same issue of Room magazine includes Jonína Lynn Kirton's interview with Betsy, which is also available online now.
Many Gendered Mothers Project
If you've been following Betsy for a while, you know that she's an inspiring and experienced mentor and editor. In a moving essay for the Many Gendered Mothers project, Elee Karljii Gardiner pays tribute to Betsy, referring to her as a "poetrymother," she describes what it was like to be mentored by Betsy: "She taught me a problem should be written into rather than ignored."
Many Gendered Mothers is an online "project on literary influence featuring short essays by writers (of any/all genders) on the women, femme, trans, and non-binary writers who have influenced them, as a direct or indirect literary forebear." Go to their website to read Elee's essay.

If you find these words of praise inspiring and haven't read Oscar of Between: A Memoir of Identity and Ideas yet, order you copy here. Betsy will sign your book and add a personalized inscription.